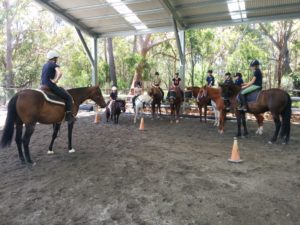 Term 2 (Autumn 2018) Horse Riding Lessons are to recommence from 1st May and we have several riding spots available within our limited stable.
We have room for several Independent Riders, on a Tuesday afternoon (from 4.15pm- 5.30pm) and a couple of spots available in our Saturday* morning lessons slot (9am- 10.15am). *Due to a number of competitions running on Saturdays, we'll be only offering 7 Saturday lessons during Term 2.
We also have a couple of spots for Beginner Riders on a Friday afternoon (4.15pm- 5.30pm) or Saturday morning (10.30am- 11.45am) as well. Contact us for more info.
For the more Advanced Riders, we will be holding Special Riding Clinics in Jumping Equitation, which will run around once / month in our purpose built jump arena, suitable for riders using our horses, or BYO horse!  EA rider Insurance is essential or PCANSW Current  Insurance is required for participation within pony club run events.
If you're keen to get your riding back on track or to advance your riding skills, call us now on 0412 324 228 or drop us an email on artevent@tpg.com.au