Yara Balba Art Studio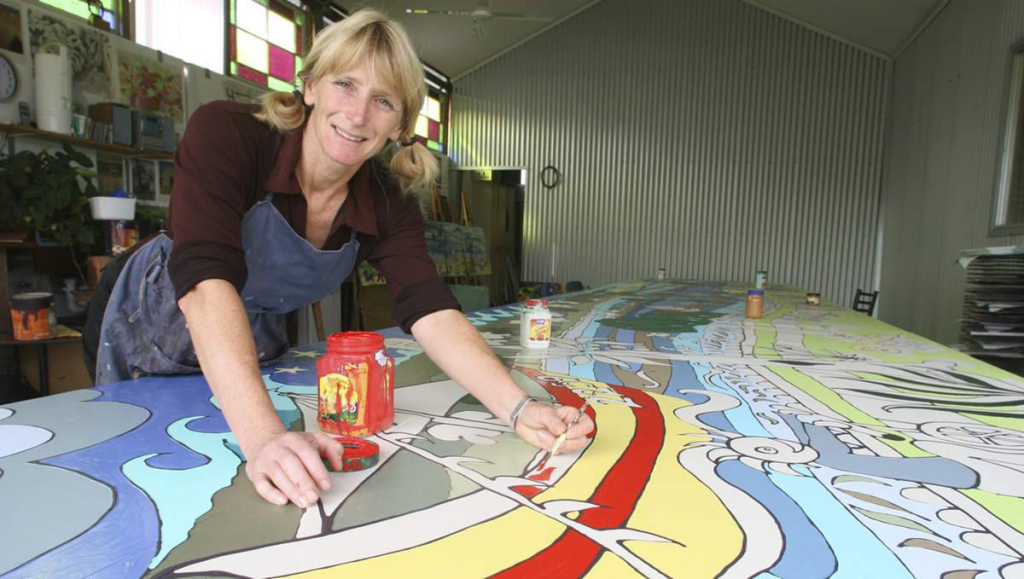 BOOK INTO ART Classes NOW!
Come and learn the power of strong, basic colour and design, then try your hand at any of the following: drawing- still life, landscape, figurative, experimental; painting using acrylics and oils -in the studio and plein air across the property; print-making – lino cuts, screen printing; simple relief carving and plaster work; working with clay; making mosaics; creating unique garden sculptures and other creative initiatives!
Specialist visiting artist weekend workshops -learn from the Masters themselves, including Sculptors, Ceramic artists, Aboriginal artists, Metal workers, Wood carvers and more!
Art Classes Term Dates 2018
Summer Term One (11 weeks)
Thursday 1 February
Thursday 8 February

Thursday 15 February

Thursday 22 February
Thursday 1 March
Thursday 8 March

Thursday 15 March

Thursday 22 March

Thursday 29 March

Thursday 5 April
Thursday 12 April
Autumn Term Two (10 weeks)
Thursday 3 May

Thursday 10 May

Thursday 17 May
Thursday 17 May
Thursday 24 May
Thursday 31 May
Thursday 7 June
Thursday 14 June
Thursday 28 June

Thursday 5 July
Winter Term Three (10 weeks)
Thursday 26 July
Thursday 2 August
Thursday 9 August
Thursday 16 August
Thursday 23 August
Thursday 30 August
Thursday 6 September
Thursday 13 September
Thursday 20 September
Thursday 27 September
Spring Term Four (9 weeks)
Thursday 18 October

Thursday 25 October
Thursday 1 November
Thursday 8 November
Thursday 15 November
Thursday 22 November
Thursday 29 November
Thursday 6 December
Thursday 13 December
Studio Workshops are running every THURSDAY, with a range of  classes to meet most peoples busy schedules.
GROUPS: Morning classes for specialist groups are available between 9am – 12pm. Specialist group discounts are available. Not currently running….
ADULTS: Open Adults class runs from 12.30pm – 3.30pm. 3 hour workshops for individuals cost $25. Can pay by PayWave (like a small eftpos machine), direct deposit or by cash.

YOUNG PEOPLE: After school art group for young people runs from 4.30 – 6pm and includes afternoon tea and most materials. After school art class costs $25. This all depends on numbers. If we have 4 students enrolled, we can run. Round up your friends!

Each week we will offer with something different, with participants working through either a set program learning foundation drawing skills, basic colour theory, painting with acrylics, oils, screen printing, mosaics, block printing, ceramics, working with ink and other materials/ or on self directed projects and activities. Students often produce numerous drawings and finished works over one session. Our several horses, dogs and cats often model for us, even the old red tractor features occasionally. The property's pretty rural outlook is the perfect site for outdoor creative workshops. Most basic art materials are supplied.
SPECIAL FUNCTIONS/ WORKSHOPS:
Yara Balba is also available to utilise for any special function, event, seminar or workshop you can dream up. The studio, with great off street parking, 56 acres of pretty paddocks, dams and bushland can cater for rural weddings, company training days, AGMs, launches, community projects and more. We have hosted specialist workshops for Hunter – Central River Catchment Management Authority in 'Dung Beetles', Hunter Region Landcare's 'Sustainable Management of Small Horse Properties', and 'Sustainable House Day' in 2011- attracting close to 100 people to explore the sustainable property.  Contact us to discuss your special idea. We love creating exciting events and can bring flair and pizazz to anything you propose. Arrange a visit to our property to see what you can think up and create as your own possibility!